Discover Costa Rica: The Ultimate 2-Week Itinerary
Written by: Nick & Hannah | Originally posted on saltinourhair.com
Welcome to Costa Rica, where "Pura Vida" is a way of life, sloths swing among the rainforest treetops, coconuts rattle in the wind, and baby turtles make their way to the sea for the first time. Two weeks is the perfect amount of time to enjoy Costa Rica, home to epic national parks, great surfing, beautiful beaches, and exotic wildlife found around every corner. Life is vibrant in this wonderful country – ready to be enjoyed in this Costa Rica 2-week Itinerary!
Ultimate Costa Rica 2-week Itinerary
Costa Rica has really got it right when it comes to protecting nature and wildlife. The government is doing its absolute best to ensure that animals are protected and species preserved, making it one of the best countries to visit for animal lovers! There's nowhere quite like it, somewhere you'll hear toucans in the early morning and monkeys howling at night on your Costa Rica 2-week itinerary.
Two weeks is the ideal amount of time to visit all the top spots, whether it's waterfalls and hot springs and volcanos in La Fortuna or the cloud forests of Monteverde. Enjoy this ultimate Costa Rica travel guide. 
Day 1: San Jose arrival
On day 1, you'll likely fly into San Jose, Costa Rica's capital city and one of two major airports in the country. Because of all the fantastic nature spots, you need to see on your Costa Rica 2-week itinerary, we recommend only staying in San Jose for a day. This amount of time gives you a chance to see a few city sights and recuperate from your journey.
San Jose is not a pretty city but it is home to some nice gardens, museums, and a food market. Other than that we don't recommend spending much time in this city. Join a food tour to learn a little bit about the city and Costa Rican food.
Day 2: San Jose to Puerto Viejo
Wake up and enjoy a typical Costa Rican breakfast (Gallo Pinto!) before embarking on your journey to Puerto Viejo. If you're renting a car in San Jose, your journey will take around 4 hours. Alternatively, book a shuttle or a tour, or take the local bus directly to Puerto Viejo. Once you arrive in Puerto Viejo, book your tours or activities for the next day. For example, rent a bike, surfboard, kayak, or go on a chocolate tour.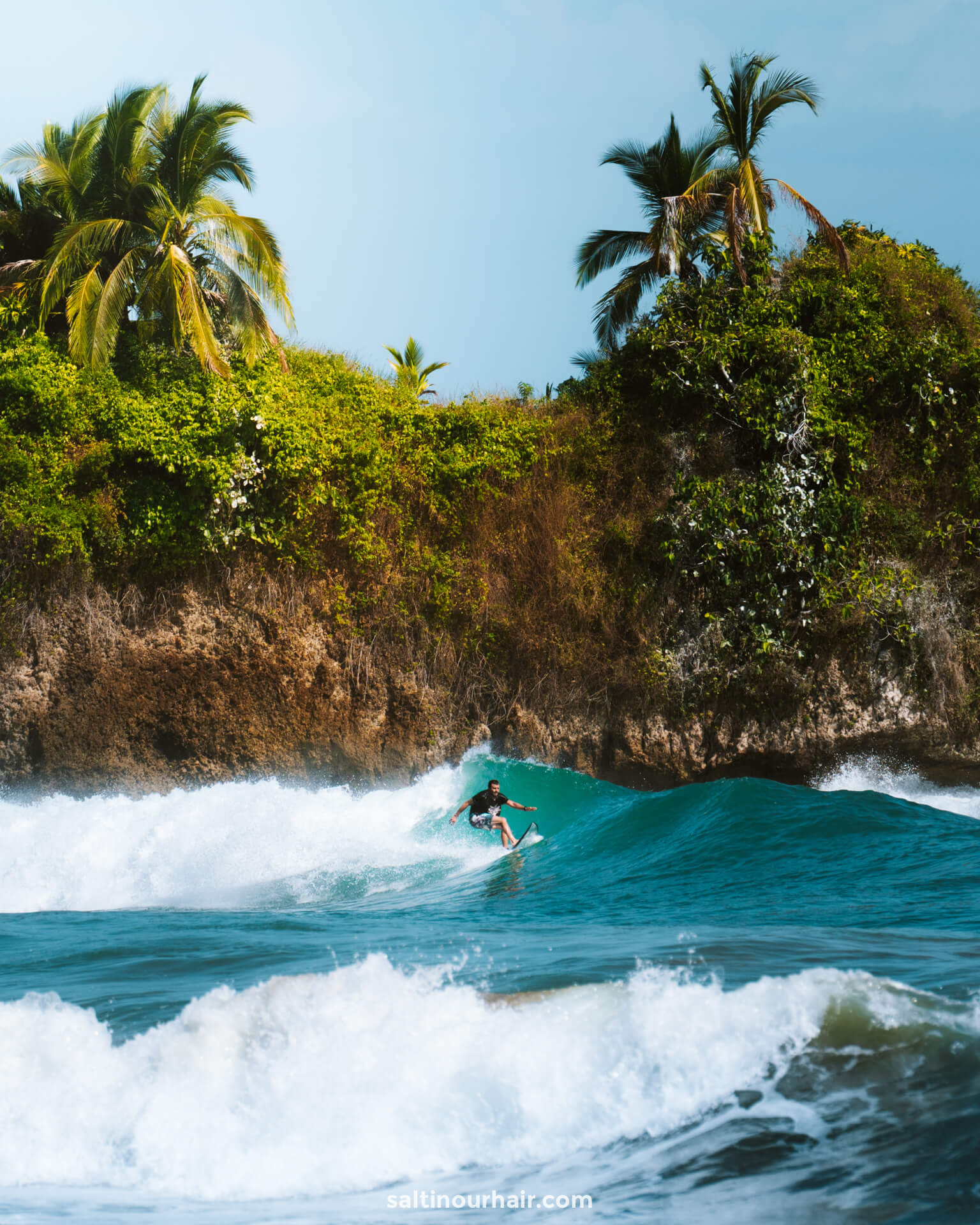 Enjoy your days in beautiful Puerto Viejo! This laidback little beach town is home to vibrant Caribbean vibes, friendly locals, and beautiful palm-tree-lined beaches. There is not a huge amount to do in Puerto Viejo; it's more about absorbing the atmosphere, relaxing on the beach, and enjoying cute cafes. There are also some great outdoor activities, from cycling to surfing and kayaking. 
Make sure also to visit the Jaguar Rescue Center, a home for injured and orphaned animals. You can join an educational tour and learn all about these beautiful animals, whether it's Sloths or Margay Cats!
Day 5: Puerto Viejo to La Fortuna
Head north to La Fortuna, a tropical town famous for its hot springs and volcanic activity. The journey from Puerto Viejo to La Fortuna is relatively long if you travel by public transport. If you're driving, leave in the morning and aim to reach La Fortuna for lunch. This gives you some time to refresh and cool down in the spray of the La Fortuna waterfall or the pools under the El Salto rope swing.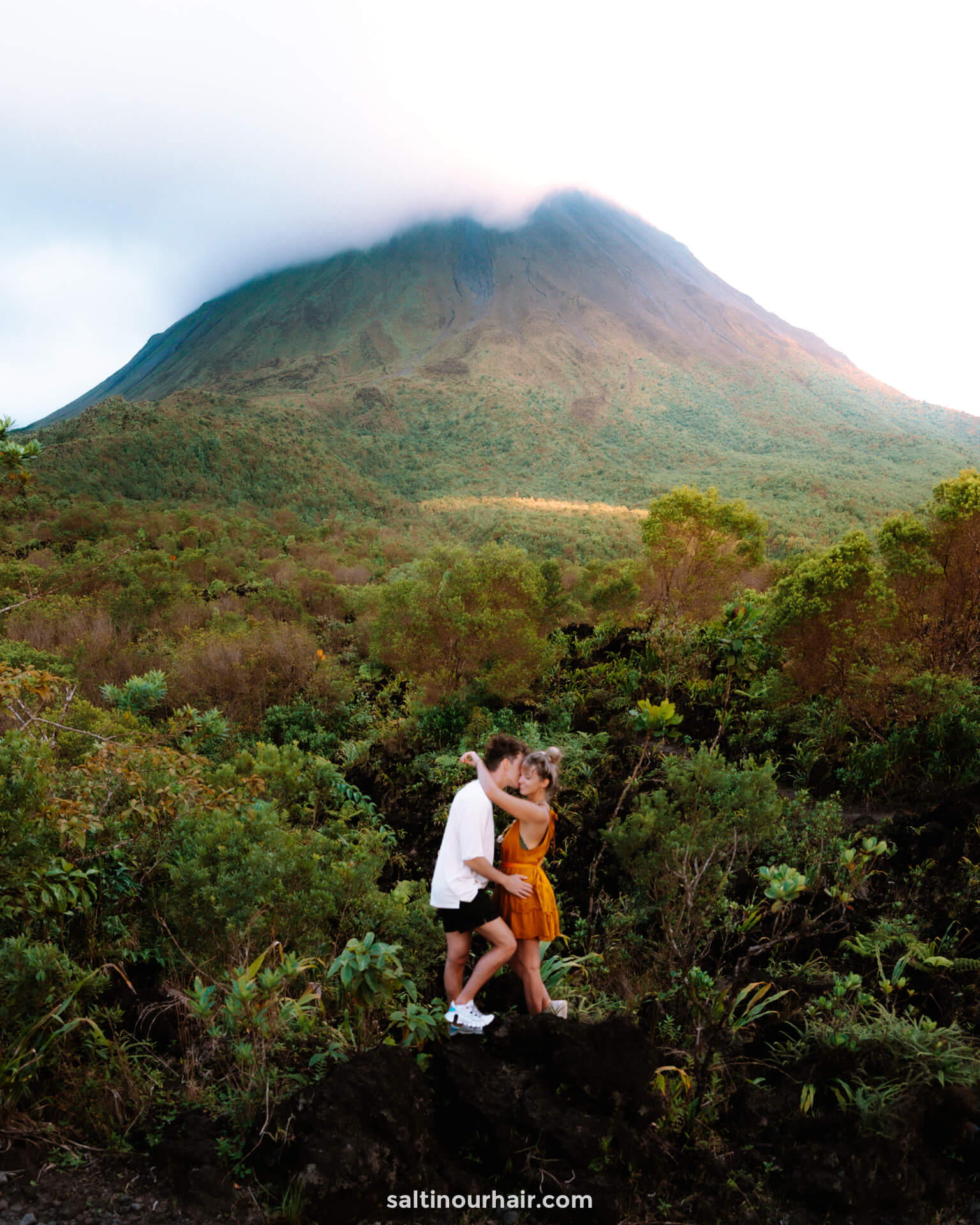 Day 6 of 2 weeks in Costa Rica:
La Fortuna
Spend one of the most magical days in La Fortuna, enjoying nature's very own playground! Wake up early and head for Arenal Volcano National Park, home to the country's most active volcano! Don't worry, though, rangers make sure to monitor the activity and close trails accordingly so you're always safe.
Choose from one of the many trails and hike to some incredible volcano viewpoints. When you're done, head back down into La Fortuna to take advantage of the geothermal activity in the area – yes, there are plenty of hot springs to enjoy! 
Day 7: La Fortuna to Monteverde
Today is the day on your Costa Rica 2-week itinerary to head to the luscious green landscapes of Monteverde! Monteverde is stunning, but the journey to get there is also exceptional, as you drive around the peaceful Lake Arenal that sits in the shadow of the volcano.
On your way, stop at Mistico Hanging Bridges, which are about a 30-minutes drive from La Fortuna. This fantastic jungle trail is about 3 km long and includes six adrenaline-pumping hanging bridges. From a height of 45 meters, you'll have the opportunity to walk across bridges suspended between the treetops, gaining the unique chance to see an abundance of wildlife. Don't forget to look out for the elusive red-eyed tree frog, an icon of Costa Rica!
Welcome to Monteverde (Green Mountain), home to unique and rare cloud forests. In fact, cloud forests only make up 1% of all forests worldwide! These beautiful areas are given their name because of their high altitude, which causes mist and low-lying clouds to appear through the trees.
Explore the Monteverde or Santa Elena cloud forest trails, looking out for frogs, butterflies, insects, and monkeys (you can even see beautiful hummingbirds at a nearby cafe!). Take part in the exhilarating night walk experience at night, led by a knowledgeable local guide.
Once you're done exploring the cloud forests, enjoy more adventures among the beautiful Monteverde nature, from ziplining and canyoning to coffee tasting.
Day 9: Monteverde to Manuel Antonio
Spend your morning enjoying the colorful butterfly garden at Monteverde before starting your trip south to Manuel Antonio. Manuel Antonio is a lovely coastal town surrounded by pristine, white-sand beaches, beautiful blue ocean, and lush jungle. Most importantly, it's home to Manuel Antonio National Park, known as one of the most beautiful in the world!
Spend your day in Manuel Antonio National Park, one of the most beautiful natural areas in the world! Although it's home to hundreds of different species, it's also one of the smallest national parks, making it easy to explore on a day trip. Buy a ticket to enter the park and hike one of the many trails, looking for exciting animals like macaws, iguanas, sloths, and squirrel monkeys. We recommend taking a guided tour so you can get to learn heaps more about the diversity of the wildlife, flora, and fauna in this area.
---